Who is online?
In total there are
4
users online :: 0 Registered, 0 Hidden and 4 Guests :: 2 Bots
None
Most users ever online was
166
on Wed Jul 03, 2019 4:07 pm

Copy the text in the white and paste on the wall of the scammer.
under the code you see the example.
Code:

<a href="http://www.taglisted.nl"target=_blank><img class="image_widget" src="http://i5.tagstat.com/image05/0/f771/000H06gUftN.gif"alt="This is a criminal scammer. Give scammer's email addess to Scampolice group"/></a>
Code:

<a href="http://www.taglisted.nl"target=_blank><img class="image_widget" src="http://i46.servimg.com/u/f46/16/36/72/61/rotf10.png"alt="TagListed"/></a>

Code:

<a href="http://www.taglisted.nl"target=_blank><img class="image_widget" src="http://i5.tagstat.com/image05/0/f771/000H06gUftN.gif"alt="This is a criminal scammer. Give scammer's email addess to Scampolice group"/></a>
Code:

<a href="http://www.taglisted.nl"target=_blank><img class="image_widget" src="http://i7.tagstat.com/image05/0/f771/000F06gUftN.gif"alt="This is a criminal scammer. Give scammer's email addess to Scampolice group"/></a>
Code:

<a href="http://www.taglisted.nl"target=_blank><img class="image_widget" src="http://i0.tagstat.com/image05/0/f771/000C06gUftN.gif"alt="This is a criminal scammer. Give scammer's email addess to Scampolice group"/></a>
Code:

<a href="http://www.taglisted.nl"target=_blank><img class="image_widget" src="http://i3.tagstat.com/image05/0/f771/000B06gUftN.gif"alt="This is a criminal scammer. Give scammer's email addess to Scampolice group"/></a>
Code:

<a href="http://www.taglisted.nl"target=_blank><img class="image_widget" src="http://i2.tagstat.com/image05/0/f771/000A06gUftN.jpg"alt="This is a criminal scammer. Give scammer's email addess to Scampolice group"/></a>
Code:

<a href="http://www.taglisted.nl"target=_blank><img class="image_widget" src="http://i3.tagstat.com/image05/0/f771/000z06gUftN.gif"alt="This is a criminal scammer. Give scammer's email addess to Scampolice group"/></a>
Code:

<a href="http://www.taglisted.nl/" target=_blank><img src="http://i46.servimg.com/u/f46/16/36/72/61/sexygi10.jpg" alt="This is a criminal scammer" /></a>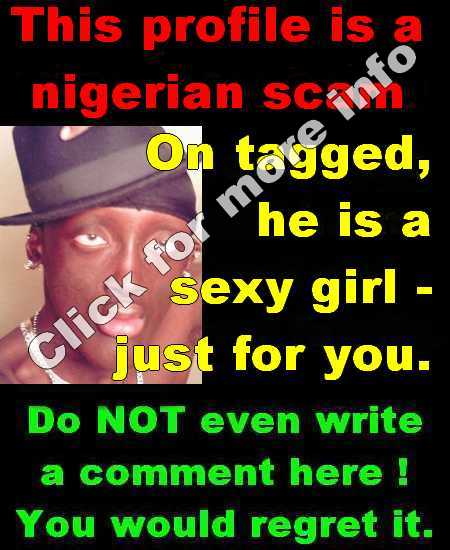 Code:

<a href="http://www.taglisted.nl/" target=_blank><img src="http://i46.servimg.com/u/f46/16/36/72/61/ripped10.jpg" alt="This is a criminal scammer" /></a>
Code:

<a href="http://www.taglisted.nl/" target=_blank><img src="http://i46.servimg.com/u/f46/16/36/72/61/try_it10.jpg" alt="This is a criminal scammer" /></a>
Code:

<a href="http://www.taglisted.nl/" target=_blank><img src="http://i46.servimg.com/u/f46/16/36/72/61/for_yo10.jpg" alt="This is a criminal scammer" /></a>

Code:

<a href="http://www.taglisted.nl/" target=_blank><img src="http://i46.servimg.com/u/f46/16/36/72/61/not_fr10.jpg" alt="This is a criminal scammer" /></a>
Code:

<a href="http://www.taglisted.nl/" target=_blank><img src="http://i46.servimg.com/u/f46/16/36/72/61/mouset10.jpg" alt="This is a criminal scammer" /></a>
Code:

<a href="http://www.taglisted.nl/" target=_blank><img src="http://i46.servimg.com/u/f46/16/36/72/61/dontco11.jpg" alt="This is a criminal scammer" /></a>
Code:

<a href="http://www.taglisted.nl/" target=_blank><img src="http://i46.servimg.com/u/f46/16/36/72/61/emptyb10.jpg" alt="This is a criminal scammer" /></a>
Code:

<a href="http://www.taglisted.nl/" target=_blank><img src="http://i46.servimg.com/u/f46/16/36/72/61/everyt10.jpg" alt="This is a criminal scammer" /></a>

Code:

<a href="http://www.taglisted.nl/" target=_blank><img src="http://i46.servimg.com/u/f46/16/36/72/61/bancru10.jpg" alt="This is a criminal scammer" /></a>
Code:

<a href="http://www.taglisted.nl/" target=_blank><img src="http://i46.servimg.com/u/f46/16/36/72/61/idthef10.jpg" alt="This is a criminal scammer" /></a>

Code:

<a href="http://www.taglisted.nl/" target=_blank><img src="http://i46.servimg.com/u/f46/16/36/72/61/scharm10.jpg" alt="This is a criminal scammer" /></a>

Code:

<a href="http://www.taglisted.nl/" target=_blank><img src="http://i46.servimg.com/u/f46/16/36/72/61/sckill10.jpg" alt="This is a criminal scammer" /></a>
Code:

<a href="http://www.taglisted.nl/"target=_blank><img class="image_widget"src="http://i5.tagstat.com/image05/0/f771/000x06gUftN.gif"alt="This is a criminal scammer. Give scammer's email addess to Scampolice group"/></a>
Code:

<a href="http://www.taglisted.nl/"target=_blank><img class="image_widget"src="http://i3.tagstat.com/image05/0/f771/000J06gUftN.gif"alt="This is a criminal scammer. Give scammer's email addess to Scampolice group"/></a>
Code:

<a href="http://www.taglisted.nl"target=_blank><img class="image_widget"src="http://i0.tagstat.com/image05/4/ad81/000J054NaS1.jpg"alt="This is a criminal scammer. Give scammer's email addess to Scampolice group"/></a>
Code:

<a href="http://www.taglisted.nl"target=_blank><img class="image_widget"src="http://i2.tagstat.com/image05/4/ad81/000L054NaS1.jpg"alt="This is a criminal scammer. Give scammer's email addess to Scampolice group"/></a>
Code:

<a href="http://www.taglisted.nl"target=_blank><img class="image_widget"src="http://i3.tagstat.com/image05/4/ad81/000K054NaS1.jpg"alt="This is a criminal scammer. Give scammer's email addess to Scampolice group"/></a>
Code:

<a href="http://www.taglisted.nl"target=_blank><img class="image_widget"src="http://i2.tagstat.com/image06/4/ad81/000U054NaS1.jpg"alt="This is a criminal scammer. Give scammer's email addess to Scampolice group"/></a>
Code:

<a href="http://www.taglisted.nl"target=_blank><img class="image_widget"src="http://i2.tagstat.com/image06/4/ad81/000M054NaS1.jpg"alt="This is a criminal scammer. Give scammer's email addess to Scampolice group"/></a>
Code:

<a href="http://www.taglisted.nl"target=_blank><img class="image_widget"src="http://i6.tagstat.com/image05/4/ad81/000P054NaS1.jpg"alt="This is a criminal scammer. Give scammer's email addess to Scampolice group"/></a>
Last edited by Jack Cunter on Mon Aug 29, 2011 5:40 pm; edited 1 time in total

---
Permissions in this forum:
You
cannot
reply to topics in this forum