Who is online?
In total there are
7
users online :: 0 Registered, 1 Hidden and 6 Guests :: 2 Bots
None
Most users ever online was
166
on Wed Jul 03, 2019 6:07 pm

Broad Vic
lmmodesto@uol.com.br
Affection, adoration and safety is what I am wishing to get!
do 15-6-2017 00:17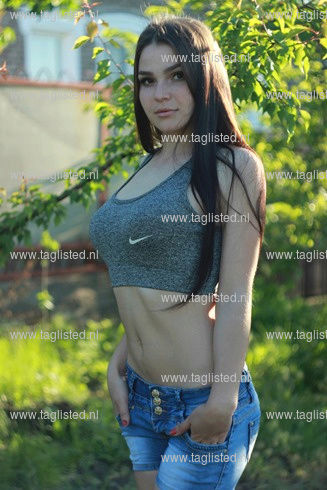 Salut.
Today is a good day. Is it true?
Have you ever been told that you are pleasant male?
I want to meet you.
I really do not know how to start. I will not torment you with details about me. Yet I'm revealing a small secret to you. I'm tired of being alone.
And because of this, I decided to write to you. Therefore, we both have a nice chance to change our lives and create something more than dalliance. For this one needs someone who understands him, takes it, becomes more than a friend. Latter depends on the circumstances. I'm not going to talk about myself yet, I think, from your entry you already understood something. My photo will complement general idea of me.
I respect genuineness.
I always prefer to be honest and sincere with all.
I love honesty towards me. I think that it is too cruel, to play with heart of people and create secrets.
So I want to warn you that I'm only interested in real date.
I hope that acquaintance will be alive and interesting for both of us.
Write me! I waiting your message

Regards See you soon!
Vickie
Code:

Received: from a2-socom7-2.uol.com.br ([200.147.34.49] helo=smtps.uol.com.br)
by kate.hostnet.nl with esmtp (Exim 4.86)
(envelope-from <lmmodesto@uol.com.br>)
id 1dLGb6-0006Yp-Jb
for bulk@taglisted.nl; Thu, 15 Jun 2017 00:17:14 +0200
Received: from unknown (HELO kate.hostnet.nl) ([91.184.19.33])
 by 172.17.0.30 with (DHE-RSA-AES256-SHA encrypted) SMTP; 14 Jun 2017 22:17:14 -0000
Received: from smtp.uol.com.br (host-190-95-137-222.manta.telconet.net [190.95.137.222])
(using SSLv3 with cipher DHE-RSA-AES256-SHA (256/256 bits))
(Client did not present a certificate)
(Authenticated sender: lmmodesto@uol.com.br)
by a2-socom2.uol.com.br (Postfix) with ESMTPSA id 86F71E000091
for <bulk@taglisted.nl>; Wed, 14 Jun 2017 19:16:57 -0300 (BRT)
Received: from localhost (localhost.localdomain [127.0.0.1])
by a2-socom2.uol.com.br (Postfix) with ESMTP id 4B84AE000086
for <bulk@taglisted.nl>; Wed, 14 Jun 2017 19:17:04 -0300 (BRT)
Received: (qmail 4534 invoked from network); 14 Jun 2017 22:17:14 -0000
Reply-To: "Vicky Petit" <vikapetit@gmx.net>
From: "Broad Vic" <lmmodesto@uol.com.br>
To: <bulk@taglisted.nl>
Subject: Affection, adoration and safety is what I am wishing to get!
Date: Thu, 15 Jun 2017 00:16:59 +0200
Message-ID: <B3595A0B-ADCF-8108-6A0FAABE-9C42218C119A@uol.com.br>
MIME-Version: 1.0
Content-Type: multipart/mixed;
boundary="----=_NextPart_000_029A_01D2E79C.4BAD51D0"
X-Mailer: Microsoft Outlook 15.0
X-UOL-SMTP: SMTP465
X-SIG5: 6734e630039c10b8f692a31f148ce0ad
X-SPF-Result: kate.hostnet.nl: domain of uol.com.br designates 200.147.34.49 as permitted sender
Authentication-Results: hostnet.nl; spf=pass smtp.mailfrom=lmmodesto@uol.com.br; dkim=pass header.i=uol.com.br
X-SpamExperts-Class: ham
X-SpamExperts-Evidence: SB/hostnet_nl (0.00919028893722)
X-Recommended-Action: accept
X-Filter-ID: PqwsvolAWURa0gwxuN3S5dbLZBtEelHx626yyIFROGB+9TxhQfcwuahLJs5knG5IyPnMe7J9Jbvq
lnF3/3SK0yoF3f3pldUGVcjmN5v0k+ZMSKQfZdPH5wx0msBkphzxR7r1tsS/3TKG3I/sBYKfBoM2
+Lz1zxfLqECKKjOgFHqaB8y3QSxXhghIPyJsMJy3NFyfn7nwS55l6/I3fUij7H1VyRaJ/B2NPn3m
ScFXEfiy+ETSo/zRhk88TSVA8qTliv4zglWbcSn1DfioIGHtTwMhtFfhmeM+Yk8rGkMVlbHUYOZb
qqac4arzo1dphKEpZuM7jUXIESohoO51xWmU8VbC9sWs9g25AX9HP1kaJMJjxeXxahNzPCqYpjQE
ovRIisGaUmdLLC2ChUnT14xp6a5GhSs+li1InCnKgu0jRSF+pvlHhV6a5QjptwQBGybQxHTMoVDr
lSZJhTQNES5A0JiAZJLwqtpo+39litOAXHpg1Jy/4OKySYoJLR9scMC+a5HjFnnR5LZo608BxW3e
tUDfVQqCp7QaIfrs7gBf6cfo2aH9zHG4ad0F/gapj1WuyGnyx9XPtN61ynv8DLoFFoVmmcUeNN1L
ogf8Ra1+nYc3iIJVR/0O5hJ5r9nBCNFPabnCB1hlSDeU0BxXJSoSiRD62jl+wCjb6NgjlS0dDNgp
7425QOToSlDi7XAqSy0vki1yT4aGTLmSqFKPrrnExvmjYp83+tWrdKDRlFkh2Em8h2/WtrCagG/U
N4KlibWpX7semJdl8Weuy8+tlMSTQ7APsX+BKU3WwXCcl2oR5jJqnH+XQsHzIohu66m+igpW96is
kj57GHftlMjnVHRhlvIaumjbfnQ8ZEb85zB8YQk=
X-Report-Abuse-To: spam@avril.hostnet.nl
Thread-Index: AQEAyzbrfMOCNefDDzj9ONhI9pP2Kw==


| | |
| --- | --- |
| IP address | 190.95.137.222 |
| Country | Ecuador |
| Region | Manabi |
| City | Portoviejo |
| ISP | Telconet S.A |
| Organization | Telconet S.A |
| Latitude | -1.05 |
| Longitude | -80.45 |

---
Permissions in this forum:
You
cannot
reply to topics in this forum